The Earliest Known Oklahoma Balkcom Ancestors
The Balkcom families of the towns of Sayre and Erick in southwest Oklahoma in the 1900's are descendants of James E. Balkcom, born in 1807 in North Carolina, and Mary (Polly) (probable surname Murphy, unproven), born in 1814 in North Carolina.  James' parents are not known, but many researchers have worked under the assumption that James is a descendant of Alexander Balkcom of Providence, Rhode Island, born around 1630.  That assumption is thrown into doubt based on DNA testing, but it is true that most of the Balkcoms in present-day Georgia, and many of those in Alabama, descend from Alexander.  Alexander's children settled around Providence, and one of his grandsons, Baruch Balkcom, moved to coastal North Carolina in the mid-1700s.  Little is known about Baruch's wife or daughters, but his son Ichabod received a governor's land grant in Edgecombe County, North Carolina where he lived for several years before his death in 1789.  Members of this family later resided in Johnston, Duplin, and Sampson Counties in North Carolina, with many moving later to Georgia and Alabama.  One of the the primary sources describing the family of Alexander Balkcom is A First Book of the Balcombe Family, by Frank W. Balcomb (c 1942). 
Early records of James E. Balkcom are sparse, and the first official record found so far is in court records of Sampson County, North Carolina in 1827 when James was age 20:  "Appointed Matthew White for the road from the Duplin County line to Lisbon Bridge with the following hands to work: Rebecca Pridgen's hands, Moses Pridgen's hands, Wm Pridgen, Abram Blanton, Moses Blanton, Jonas Green, Thomas Coggin, James Evans Jr, Bryan Lee and hands, George Alderman, Alfred Taylor, Samuel Ward & hands, Willie Balcomb, James Balcomb and Nathan Johnson and hands."  All able-bodied men were obligated to road and river work in their area, so the appearance of "Willie", probably Wiley, and James together means they lived near each other or in the same household.  This Wiley was born in Duplin County, and is believed to be a descendant of the original Alexander Balkcom above. dna proof needed 
From North Carolina to Georgia
In around 1835, James and Wiley moved their families about 450 miles south to Lowndes County, Georgia, near present-day Valdosta. James and family appeared in the 1840 federal census of Lowndes County with James' household consisting of an adult female, probably wife Mary (Polly), and five children under age 5, two males and three females. Wiley and his family lived nearby, Wiley having sold in 1832 much of his several hundred acres of land in Duplin and Sampson Counties North Carolina that he had inherited on his father's death in 1803. Another nearby neighbor was Daniel Murphy, probably related to Polly Balkcom dna proof needed and also from North Carolina. It's reasonable to assume that the Balkcom and Murphy families made the move to Georgia in ox-drawn wagons, since that was the main transportation used in family moves at the time.
Georgia in 1835 was not quite still a frontier. It was an original state, admitted in 1788, but inland it was more sparsely settled than the Carolinas. Georgia in contentious dealings with Indian tribes as well as with the federal government developed aggressive land distribution policies designed to drive out native tribes and to attract settlement, and was unique among the states in that it conducted land lotteries. These began in 1805 and continued until 1832, with the earlier ones intended to distribute land of the Creek and Cherokee Indians. Almost 3/4 of the land in present-day Georgia was distributed for permanent settlement under this lottery system. James Balkcom, Wiley Balkcom, and Daniel Murphy may not have qualified for lottery since they were not Georgia citizens, although military service could have qualified them. And, Lowndes County where they located was not part of the 1832 lottery. So although they likely did not get free land, Georgia land was cheap and attractive and by then presumably more fertile than their North Carolina land. Another factor in migrations to the south at the time was the promise of profitably growing cotton inland throughout the South, with invention of the cotton gin, while tobacco was at the same time declining as a commercial crop due to oversupply and declining land fertility. Land speculation was also rampant, and often settlers in new regions were attracted by marketing or by the reports of those who had already moved. There is no indication in the records that James or Wiley Balkcom were engaged in commercial farming, say of cotton, but they ultimately each acquired substantial land.
From Georgia to Alabama

Around 1845, after farming in Georgia for around 10 years, the James Balkcom family moved about 150 miles northwest to Dale County, Alabama, in the southeast part of the state. By 1847, Wiley and family had also moved there. Both Wiley and James bought land in the county, with James' land in 1860 valued at $1500 and Wiley's at $2000. Both had several hundred dollars worth of "personal property", much of which was made up of livestock. Living adjacent to James and Mary in 1860, probably in a house on their land, were Daniel and Elizabeth Murphy.
Brantley Balkcom, the sixth of twelve children of James Balkcom and Mary Murphy, was age 12 in 1860 and attending school in Dale County. Within five years, at age 17, he would marry 18 year old Rose Ann Brannon from adjacent Henry County. John Ira Balkcom was their son, born a few years after the Civil War. He married a neighbor girl, Ida Baldwin, in 1896. She descended from Baldwin and Mathews families of Georgia.
From Alabama to Texas, then Oklahoma
In 1901 J. I. and Ida left their families behind and moved by wagon from Alabama to Van Zandt County, Texas. John was age 28, Ida 25, and daughter Mae 3. The reason for their move is not known, but Alabama economic conditions remained poor from the Civil War and Texas was becoming known as a place of opportunity. John probably worked as a tenant farmer just south of the town of Grand Saline, Texas, east of Dallas. After only a few years in Texas they moved to southwestern Oklahoma where they farmed and made their permanent home. There they raised children Mae (1897-1989), Thelma (1905-1971), Jake (1909-1961), and my father Euel (1903-1981).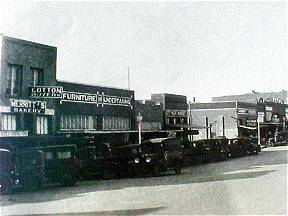 Erick, Oklahoma 1930s

Sayre, Oklahoma 1930s